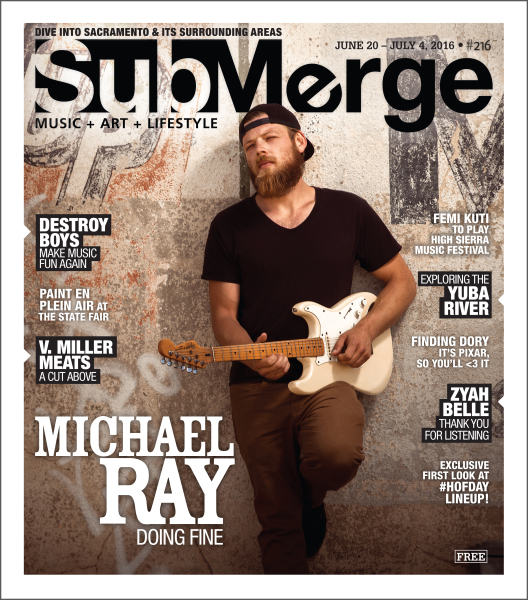 -Sacramento News and Review
"cathartic...raw like an exposed nerve"

Michael Ray is not your typical blues musician. While steeped in the genre's tradition, he is clearly the product of a different era. Combining searing guitar and primal vocals with a unique approach to lyrics and consummate musicianship, Ray's take on blues is influenced by as much by Lauren Hill and The Offspring as it is by Robert Johnson and Stevie Ray Vaughan.
 Picking up the guitar and harmonica as a child, Michael attended a national award winning high school music program where he performed at Governor Arnold Schwarzenegger's inauguration and The Monterey Jazz Festival. A commitment to music as a full time career came in 2014, resulting in a rapid ascent through Sacramento's thriving music scene. What followed was over 200 gigs in countless venues within a year that ended in a Sammie nomination. That momentum continued into 2016, which was highlighted by a sold out EP release, an appearance at Sacramento's historic Concert In The Park series, and a set opening for blues legend Robert Cray.
 This year Michael is focused on playing larger venues, releasing exciting new content and touring the west coast. A studio Ep will be released in April, followed by a full album by the end of the year. 
​
Submerge Magazine 4/10/17

Sacramento News & Review 4/13/17

Sacramento News & Review 2/9/17

"Michael Ray has had a helluva year. The local blues musician has seen his popularity skyrocket due not only to his enjoyable sound, but because of his hard work, tireless promotion and frequent gigs around town. Whether he's hosting an open mic at a small bar or opening for a national touring act in a 1,000-plus capacity venue, Ray always brings his A-game."

Click here for the full article
"As clear as Ray's blues influences are, he never sounds like a parody of someone playing Delta blues or a corny copy of Muddy Waters. The stronger pop elements and bouncy soulful grooves give it a modern flair."

Click here for the full article
"Ray's guitar can snarl from a whisper, and he sings with the same primal unease, both instruments quivering between soft-spoken melodies and guttural sounds that personify darkness and desperation"

Click here for the full article
Submerge Magazine 6/29/16

"Ray's newest EP, Live at the Old I, is a stripped-down tour de force. Take for instance the final song "I'll Be Doing Fine." What starts as a pacing, prowling guitar solo echoing in the silence, slows and elongates into a classical piece (by a famous composer I should be able to name as a "music journalist"), before sliding again into a gritty rock 'n' roll lick right into Ray's sandpaper smooth growl."

Click here for the full article